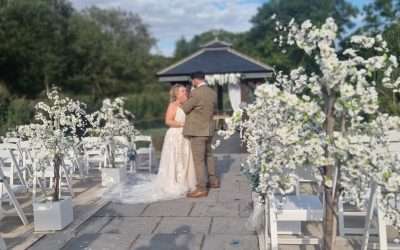 Wow! What can we say? Like a movie star wedding is the ultimate accolade. We try extrememely hard to ensure all of our couples and their guests get...
read more
Reviews and testimonials – read what our lovely couples say
Wow !! Eden Grange is definitely a Hidden Gem, Jo, Stuart and all the staff went above and beyond for us on our big day, nothing was to much bother, Jo was brilliant taking pictures , helping me with my dress and making sure I had a drink in hand! Food was served fast and exactly as wished. I would highly recommend Eden Grange it is the most magical place I have ever been, you defo forget your in Shildon when you are there.
We will be returning and booking to stay in a
glamping pod again, they are beautiful inside very clean and have there own private hot tube, which was amazing.
Thank you everyone at Eden Grange for making our Special day perfect.
I don't know where to start in recommending Eden Grange as a wedding venue, but probably the hostess Jo and the staff. There was nothing too much trouble down to the smallest details. It's obvious from the start that Jo is a perfectionist and runs a very tight ship but in a lovely friendly way and that's reflected in how happy and friendly her staff are. The attention to detail is 2nd to none, and the venue itself is absolutely amazing with the fishing ponds as a backdrop to the gazebo for the wedding ceremony and the TP for the reception everything was perfect for my daughters big day. We stayed in the pods on the evening before the wedding and guested overnight after the wedding and we looked after very well with a lovely hearty cooked breakfast to help them on their way the next day I would highly recommend this value venue and challenge anyone to find anything better. Well done everybody.
I've got to say that our experience at Eden Grange is one to treasure forever, Joanne, Stu, Gemma and the rest of the team accommodated all of our needs from start to finish going above, and beyond to make sure we got everything we dreamed of, and more Jo was always in touch to make sure that the plans are on track and to prompt us with things. We still needed to sort Stuart is a man in 1 million and even calmed me down on the day of the wedding before I walked down the aisle as I was so nervous. His little peptalk is one I'll never forget. Gemma again, so friendly and helpful with sorting accommodation for the guests and catering also. This family run business is moving in a prosperous position with constant upgrades to the site accommodation et cetera no expense spared and we wish them all the best for the future. No doubt about it that we will most definitely keep in touch and be back to visits. Cheers guys.
I would highly recommend Eden Grange. We had our wedding their on Saturday and the place is just amazing! Jo has helped and communicated brilliantly throughout the whole booking to the day! She had put herself out to make sure our day was perfect and constantly helping with every little thing. Also everyone at Eden grange was so helpful and amazing. From one helping out my shoes on, one always keeping me up to date on what's happening next to another helping with my little boy and keeping him entertained feeding the fish. I cannot fault Eden grange or any of the staff they are all amazing and want to have my day all over again. We also stopped in the pods and tipis which made our wedding even more amazing as they are all beautiful! I would highly recommend having your wedding here and can't wait to come back for our anniversary! Thank you all so much xx